In today's society, we depend on our smartphones daily by using them to socialize with friends and family, complete work for our jobs, or to simplify tasks through the use of apps. With the amount of information being stored within our cellphones, it can pose a serious security risk if the wrong eyes looked upon that information without our consent. After chatting with one of my more prominent slaves, stiefel slave, I came to the conclusion that a slave's phone data can be a powerful weapon in control. Stiefel slave mentioned about apps he remembered to track a person's phone. Thus, I gave him the task of researching which phone tracking app is the best to allow me to monitor his life whenever I choose. After presenting me with a few solutions, he presented the best option called Cerberus. Cerberus is an anti-theft smartphone app for Android phones (I'm sure there are iPhone alternatives too) which can be found in the Google Play store. It allows a person to track their smartphone via a PC in the event their phone is stolen or lost. However, to apply that concept to this environment, what happens if a cash master has online PC access to the cash slave's phone and can track his every move?
Stiefel slave followed orders and bought the premium version of this app then installed it on his phone. He then provided me with the PC login information. After I obtained this information, I changed the login credentials so I am the only person who can control his phone data. Logging in via the Cerberus site is simple and gave me access to a plethora of features. Once inside, I am able to access the slave's camera on his phone to take pictures or video and have them sent immediately to my email, record audio via the microphone whenever I choose, monitor the phone's location at any time, and view all incoming and outgoing text messages and phone call information. The phone shows no indication that these actions are happening as I'm the only one who knows these commands are being executed. In addition, I can send messages to the phone which appear on the screen of the phone visually and I have the option of making the phone read aloud these messages at the click of a mouse. It even allows me to send text messages from the phone to other people's phones and sound a VERY loud alarm if needed. The best feature is that I can lock the phone completely and make it useless unless a passcode is entered.
Visual of the features included: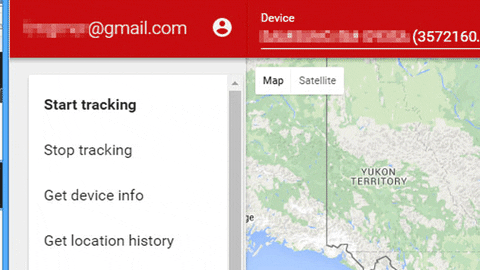 After familiarizing myself with the features, it now became time to do a real test of the app's functions for cash slavery. Stiefel slave informed me that he would be traveling for business and use of his phone would be paramount. He told me at what time he would be arriving to his destination. With my birthday happening during his trip, I decided it was time to extract a ransom tribute. Stiefel slave knew this would be happening in the future but did not know when. Hours after he arrived to his location for his business trip, I forewarned him via email that in the next 30 minutes, I would be locking his phone until a ransom was paid to unlock it. If the ransom was not paid after an allotted amount of time, I would also set off the alarm. Stiefel slave must not check his email too often because the ransom was not paid in 30 minutes resulting in the phone being locked. I then input a message on his phone screen telling him to pay the ransom since he could no longer use his phone. Luckily for him, he paid the ransom via his laptop before I needed to set off the alarm and he was given the passcode to unlock his phone.
To protect his identity, I'm going to allow Stiefel slave to provide a first hand account of his experience with this app: